Dawn Harper is the protagonist in Nicky, Ricky, Dicky & Dawn. Dawn thinks she's the team leader of the four. Dawn is the only girl in the quadruplets and she's four seconds older, so she thinks she's four seconds wiser, and four seconds smarter. Dawn has a babysitter named Josie. Dawn is close to her brothers and shares a room with them as well until she moves into her own room (that use to be Tom's train room). Dawn is portrayed by Lizzy Greene.
Personality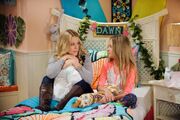 Dawn thinks she is very responsible and mature according to her. Dawn loves her siblings even though she doesn't show it. She has sleepovers with her best friend Mae and has a babysitter named Josie.
Biography
Background
Dawn was born the oldest (by four seconds) to Anne and Tom Harper and her three brothers. She lives in Boulder, Colorado in the U.S.A and is in fifth grade. Dawn is the only girl of the kids and is best friends with a girl named Mae also she has chic senses.
History
History
Community content is available under
CC-BY-SA
unless otherwise noted.